DUMB TYPE | AUDIO VISUAL LIVE 2022: remix —ICC 25th Anniversary Event
DUMB TYPE | 2022: remap —Japan Pavilion Exhibition in Tokyo —From the 59th International Art Exhibition, La Biennale di Venezia
DUMB TYPE | 2022: remap Opening Special Sound Party
DUMB TYPE | AUDIO VISUAL LIVE 2022: remix at Teatro Goldoni, Venezia
30 Nov. 2022, at Teatro Goldoni, Venezia
project members: Shiro TAKATANI, Ryuichi SAKAMOTO, Ken FURUDATE, Takuya MINAMI and Satoshi HAMA
Dumb Type – Exhibitions – Haus der Kunst München
Dumb Type – The Japan Pavilion Artist 2022 at the 59th International Art Exhibition – La Biennale di Venezia
Dumb Type New Theater Work "2020" [Cancelled]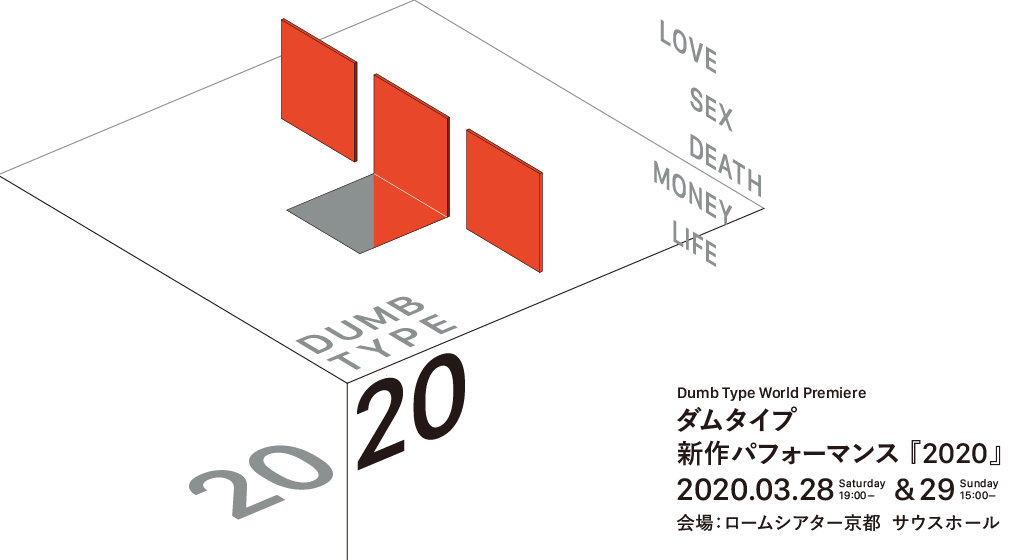 28, 29 Mar 2020, at Rohm Theatre Kyoto, South Hall
Comprising a diverse membership drawn from video, visual art, architecture, design, computer programming, Dumb Type was founded in 1984 and has since established a reputation at home and abroad for its multimedia performances and installations whose main creative figures and approaches shift each time. This performance marks its first new work since "Voyage" in 2002.
Member: Takayuki FUJIMOTO, Ken FURUDATE, Satoshi HAMA, Marihiko HARA, Yuko HIRAI, Ryoji IKEDA, Nobuaki OSHIKA,
So OZAKI, Ryo SHIRAKI, Norico SUNAYAMA, Shiro TAKATANI, Yoko TAKATANI, Mayumi TANAKA, Hiromasa TOMARI, Misako YABUUCHI, Aoi YAMADA, Toru YAMANAKA, Yukiko YOSHIMOTO
https://rohmtheatrekyoto.jp/en/event/55160/
Dumb Type – The Japan Pavilion Artist 2021 at the 59th International Art Exhibition – La Biennale di Venezia [postponed to 2022]
Dumb Type – New Work : "Trace / React II"
Dumb Type releases new installation work "Trace React II" in the exhibition "ACTIONS + REFLECTIONS", Museum of Contemporary Art Tokyo.
Dumb Type – ACTIONS + REFLECTIONS, Museum of Contemporary Art Tokyo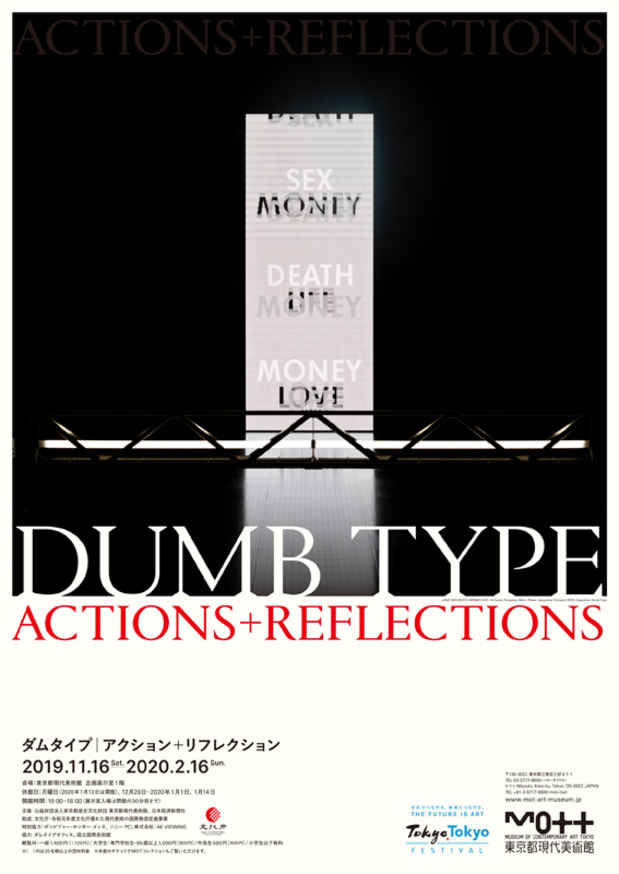 Nov 16, 2019 – Feb 16, 2020, Museum of Contemporary Art Tokyo, Tokyo, Japan
The Museum of Contemporary Art Tokyo is delighted to announce the upcoming solo exhibition "Actions + Reflections" by leading Japanese media artist collective Dumb Type. The exhibition, which marks the 35th anniversary of the group's formation, will feature an updated version of the 2018 exhibition at the Centre Pompidou-Metz (curated by Yuko Hasegawa) with several new works as well as an extensive archive of the group's past performances.
https://www.mot-art-museum.jp/en/exhibitions/dumb-type-actions-reflections/
Dumb Type – ACTIONS + REFLEXIONS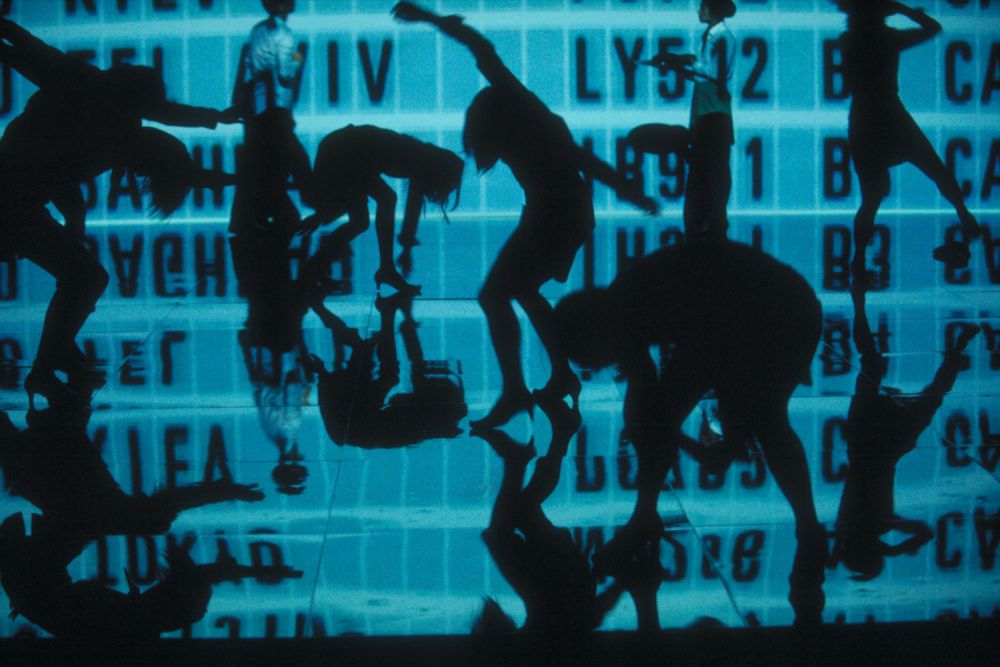 Jan 20 – May 14th, 2018
at Centre Pompidou-Metz, Metz, France
The Dumb Type exhibition is the first monographic exhibition in France of this magnitude dedicated to this art collective. Formed in 1984, Dumb Type, in its early stages, was made up of about fifteen Kyoto City Art College students from different fields: visual artists, video artists, choreographers and performers, as well as architects, graphic designers, sound engineers and computer scientists who combined to invent a new, fundamentally pluridisciplinary type of performing art.
As part of its Japanese Season, the Centre Pompidou-Metz is presenting five major Dumb Type installations, including a new installation produced for the occasion. Some of these works are the respective productions of three of the very first members of the collective – Teiji Furuhashi, Ryoji Ikeda and Shiro Takatani – who, alongside their work in the collective, continued to produce solo projects. Archives and testimonies are also presented in the exhibition and retrace the genealogy of the group, before and after the death of Teiji Furuhashi in 1995. This understanding, both physical and documentary, of a selection of works from Dumb Type allows these striking creations to be considered in a new context, while placing them in perspective within the current context of a society still dominated by an excess of information and consumption.
Dumb Type:
Shiro TAKATANI / Ryoji IKEDA / Ken FURUDATE / Marihiko HARA / Hiromasa TOMARI / Takuya MINAMI / Toru YAMANAKA / Yoko TAKATANI
And Satoshi HAMA / Ryo SHIRAKI / Alfred BIRNBAUM / Tomonaga TOKUYAMA
https://www.centrepompidou-metz.fr/en/dumb-type